Our Beers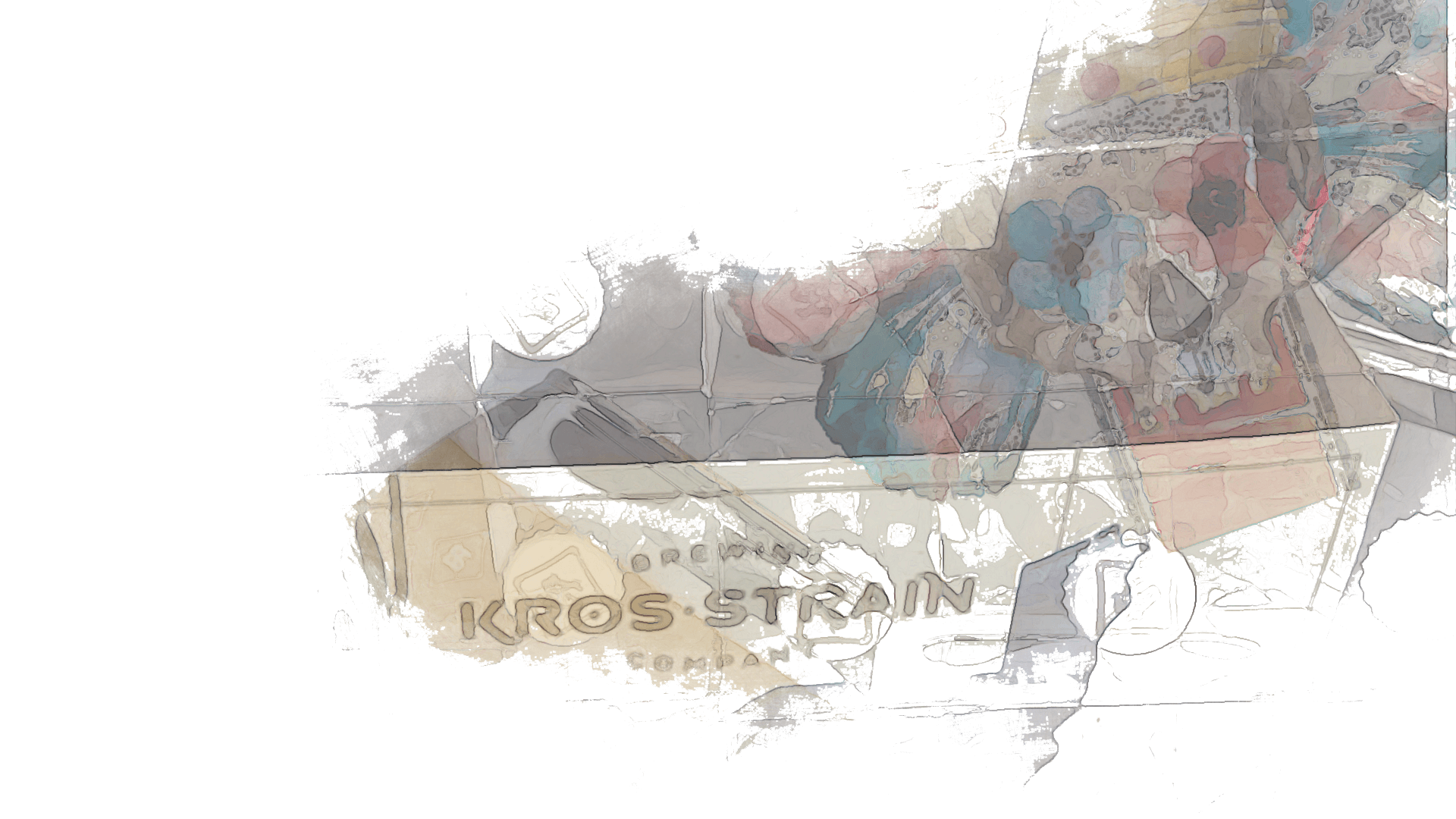 Our beer list changes often. We're always dreaming up new concoctions and tinkering with current recipes to try and make something great. That means these beers can come and go from the menu pretty quickly, so come by the taproom if there's something that sounds interesting. It might not be around long.
In addition to beer, we serve Glacial Till hard ciders, Stone Cellars wine, Blumers craft sodas (non-alcoholic), cold brew coffee and our very own non-alcoholic sparkling hop water.
Feel free to order online for taproom pick up HERE
Don't Blink
Easy and Light
Tippy Cup
Lager - American Light
Tippy cup, Tippy cup, drink it up! This one takes you back to college days, playing yard games before kickoff! A lager base with a little corn, hopped with hallertau mittelfruh and saaz, this one tastes good enough to topple any self proclaimed king of beers!
53 Magnum
Lager - Helles
Barrel Aged Helles Creek lager
Krossteiner
Pilsner - Czech
A czech style pilsner with a "keller" amount of haze! Dry hopped with saaz hops for the noblest of palates! A perfect pilsner for porches and patios! Na zdravi!
Helles Creek
Lager - Helles
Easy Drinking German Style lager light malt sweetness with no bitterness.
Citrus Hill
Farmhouse Ale - Saison
A blend of a meyer lemon saison and golden sour with the addition of brettanomyces for a funky finish.
Saison 750
Farmhouse Ale - Saison
Saison 750 is a foeder aged farmhouse ale, conditioned with brettanomyces. Drawn from our solera later than earlier batches, this beer brings a funky, low bitterness, saison punch to the table!
Saison 714
Farmhouse Ale - Saison
One of the earlier beers pulled from our foeders, this saison has a little bit higher bitterness than it's younger brother, but it pairs perfectly with the dry, fruity, funky layers, indicative of a saison.
Seasonal Rotator
Garden Hose
Fruit Beer
Nothin' better than a drink out of the ol' Garden Hose on a hot day! Our house lager with almost 300 lbs of added blackberry puree and lemon crystal is like sipping on a blackberry lemonade after a long shift pulling weeds!
Self Propelled Mower
Lager - American
A perfect beer for "weekend" work, we made our light lager even better with the addition of pineapple and lemon, for a perfect Saturday sipper!
Tan Limes
Lager - Helles
Break out the flip flops and uncover the pool, because the first taste of summer is here! We brewed our version of a Light Mexican Lager and added lime so you don't have to! Add just a touch of salt and all you need is a beach front view!
Rules Don't Apply
Hefeweizen
"Do you make anything like a Hefeweizen?" We do now! Bright banana and clove flavors shine though from a yeast strain that's been used for generations!
Hoppy
OmaHaze Batch 9
IPA - New England
Hazy IPA brewed for Omaha Tap House
Maple & Military
IPA - New England
Located in the heart of Benson, this intersection houses our collaborating partner on this beer, Jake's! Brewed for their 15th Anniversary, this beer might be our juiciest ever, as we dry hopped with galaxy, citra, and sabro hops!
Southern Hopisphere
IPA - New England
Crikey, get the shrimp out and the barbie lit! Better than one of those big beers Australia is famous for, Southern Hopisphere is one of our juiciest IPAs yet! Packed with Galaxy and Vic Secret Hops, motueka, and nelson sauvin hops, you'll taste pineapple, mango, and citrus flavors in this brew!
PSSSH!
IPA - Triple New England
PSSSH! We collabed with our friends at BKS Artisanal Ales, Malteurop Malting, and Hollingbery & Son hops for this huge hazy hitter! Waimea, HBC 586, citra, vic secret, idaho 7, and simcoe for bittering combine for a 10.5% Triple IPA that drinks like a 6% IPA. Unreal.
Fairy Nectar IPA
IPA - New England
Aromatic hops and notes of grapefruit, mango and tropical goodness fill this tasty IPA. Leaving very little bitterness behind.
Hopstreaker
Pale Ale - American
A late addition hop bursted pale ale using all Mosaic hops.
Fairy Nectar - Double Dry Hopped
IPA - New England
The 2018 Juicy Hazy IPA category Silver Medalist at GABF is Back! With the extra dose of Citra and Mosaic hops, this juice bomb will deliver exactly what you are looking for! Hazy, juicy, and full of tropical and citrus flavor all with very low bitterness, this is a NEIPA that hits all the right notes!
Nilla Nectar
IPA - New England
This small batch of our award winning Fairy Nectar was finished with freshly harvested vanilla caviar for a smooth, decadent IPA experience!
Juice and Desist
IPA - Imperial / Double New England
Our superbly juicy double IPA returns with a combination of amarillo, simcoe, and citra hops for a light and hoppy combination with a 9.4% back end that sneak up on you!
Web of Lies
IPA - Imperial / Double New England
Our "session" New England Double IPA is jam packed with Citra, Mosaic, and Sultana hops. Then for an extra juicy hit, we dry hopped with Sabro and Lotus.
Malty and Roasty
Barrelywine: Volume 6
Barleywine - English
Barrelywine: Volume 6 is the latest in our BA barleywine series! Aged for 18 months in Buffalo Trace and Elijah Craig barrels from our friends at the Cass Street HyVee, it's a big, boozy, caramelly treat you won't want to miss!
Sour
Berliner Weisse With Raspberries
Sour - Fruited Berliner Weisse
Our lightest char foeder brewed this tart, german style wheat and then we blended the beer with 425 lbs of raspberry puree.
Blackberry Saison
Farmhouse Ale - Saison
We took our foeder aged saison and blended it with 425 lbs of blackberry puree. The addition of brettanomyces makes for a funky, tannic treat!
Cara Cara Saison
Farmhouse Ale - Saison
Foeder aged saison with brettanomyces and over 400 lbs of Cara Cara orange. Pithy, bright, and citrusy!
Foeder Berliner Weisse
Sour - Berliner Weisse
Base berliner weisse from our foeder. Traditional, tart wheat beer!
Ratio 79 - Key Lime
Sour - Fruited
Foeder Golden Sour aged on key lime
Oakilly Soakilly
Sour - Flanders Red Ale
Hidilly Ho, frienderino! We socked some suds away in a rye whiskey barrel for about 12 months and the result is a tart and tempting beer that's fine and dandy like sour candy!
Koala Tears - Cherry Limeade
Sour - Fruited Berliner Weisse
Our fruited berliner weisse is back and just in time for summer! We added almost 430 lbs of sweet cherry puree and 85 lbs of key lime puree for an intensely delicious treat you'd swear was ordered from a talk box!