Our Beers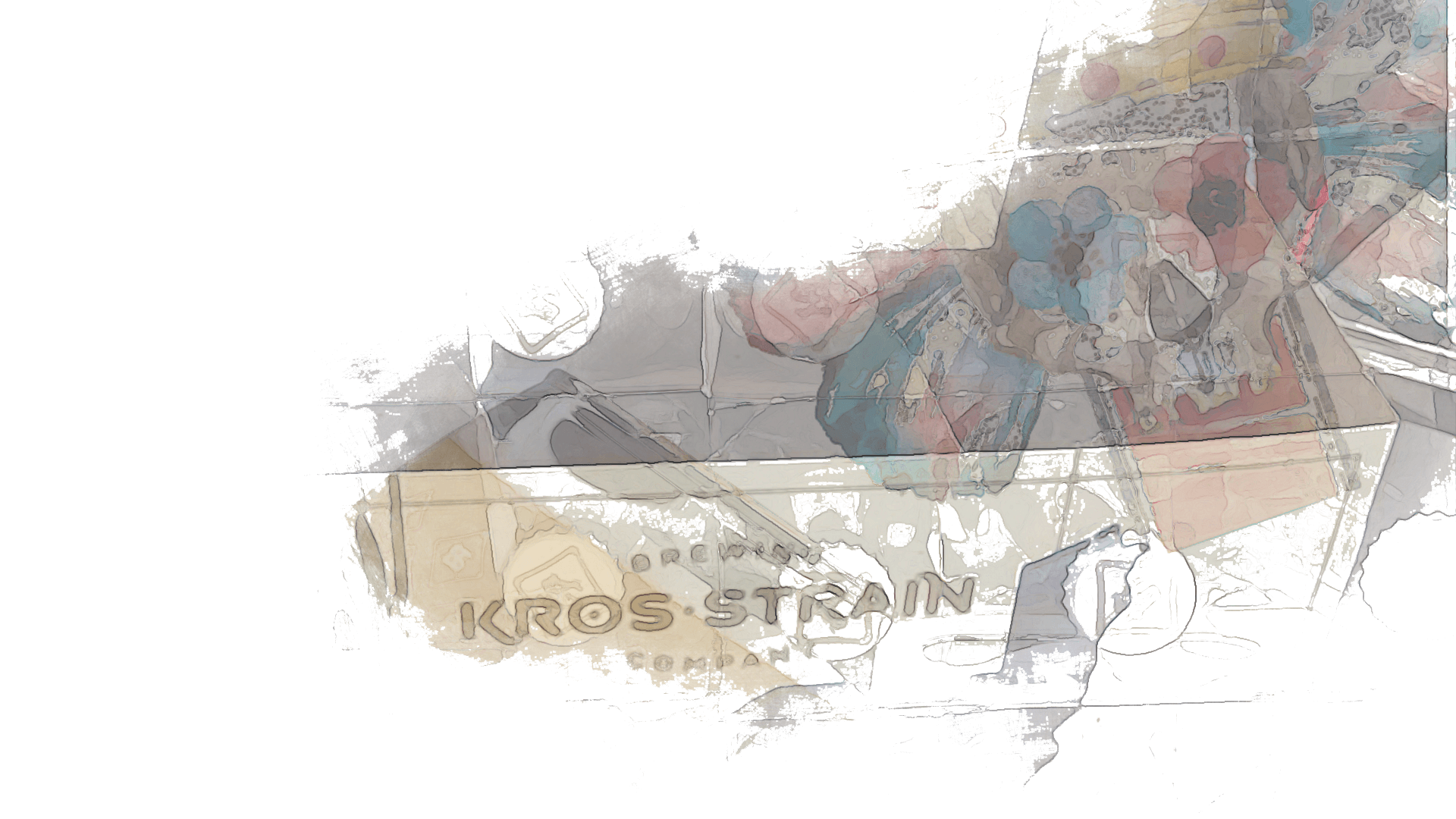 Our beer list changes often. We're always dreaming up new concoctions and tinkering with current recipes to try and make something great. That means these beers can come and go from the menu pretty quickly, so come by the taproom if there's something that sounds interesting. It might not be around long.
In addition to beer, we serve Glacial Till hard ciders, Stone Cellars wine, Blumers craft sodas (non-alcoholic), cold brew coffee and our very own non-alcoholic sparkling hop water.
Feel free to order online for taproom pick up HERE
Don't Blink
Easy and Light
Helles Creek
Lager - Helles
Easy Drinking German Style lager light malt sweetness with no bitterness.
Cakes And Pies
Lager - Helles
a strawberry shortcake inspired beer made with over 170 lbs of strawberries, 20 lbs of marshmallows, and (you guessed it) bourbon vanilla beans!
Story Time
Lager - Helles
a coffee and vanilla light lager brewed with locally sourced Stories Costa Rican coffee and real bourbon vanilla bean added to the brew!
Krossteiner
Pilsner - Czech
A czech style pilsner with a "keller" amount of haze! Dry hopped with saaz hops for the noblest of palates! A perfect pilsner for porches and patios! Na zdravi!
Hot As Helles
Lager - Helles
Traditional Helles Creek with a kick of habanero and jalapeno peppers.
Division Sign
Hefeweizen
We smuggled grapefruit into the brewery and got an idea to add some pizazz to our Rules Don't Apply Hefeweizen. Like a radler with more kick, this beer refreshes even on the hottest day!
Seasonal Rotator
Mele Kalikimaka
Spiced / Herbed Beer
Mele Kalikimaka is the thing to say, on a bright, Hawaiian Christmas day! For everyone waiting for your year end bonus check to come, this beer will make the time fly. This beer has plenty of spice on the back end to remind you of Christmas, as well as a Belgian yeast flavor on the front that hits you like a sled polished with an experimental kitchen spray thats 100 times more non stick than teflon!
Bernstein Bier
Lager - Vienna
Soft, elegant malt complexity is in the forefront, with a firm enough hop bitterness to provide a balanced finish. Some toasted/nutty character from the use of Vienna malt.
Hoppy
Fairy Nectar IPA
IPA - New England
Aromatic hops and notes of grapefruit, mango and tropical goodness fill this tasty IPA. Leaving very little bitterness behind.
Bragging Rights
IPA - New England
IOWA VS NEBRASKA. Sure, it's a rivalry, but competition can fuel collaboration. This fall, with the singular goal of liquid greatness in mind, we have again joined forces with our friends @ Kros Strain Brewing. Utilizing Midwestern grain, hops and ingenuity, this Double Dry-Hopped New England Style IPA is something to cheer for, no matter your allegiance.
Web of Lies
IPA - Imperial / Double New England
Our "session" New England Double IPA is jam packed with Citra, Mosaic, Galaxy hops and then for an extra juicy hit, we dry hopped with Southern Passion and African Queen hops! Candied Pineapple in a glass!
Fairy Nectar - Double Dry Hopped
IPA - New England
The 2018 Juicy Hazy IPA category Silver Medalist at GABF is Back! With the extra dose of Citra and Mosaic hops, this juice bomb will deliver exactly what you are looking for! Hazy, juicy, and full of tropical and citrus flavor all with very low bitterness, this is a NEIPA that hits all the right notes!
Fairy Nectar Chinook
IPA - New England
This slightly west coast, perfectly dank juice bomb was dry hopped with locally grown chinook hops from Legendary Roots Brewing Supply!
Nilla Nectar
IPA - New England
This small batch of our award winning Fairy Nectar was finished with freshly harvested vanilla caviar for a smooth, decadent IPA experience!
Hopera House
IPA - New England
We went allll the way down under to get our hands on some HPA-016 hops (Hop Producers Australia Experimental Hop 16 - seriously, that's it's actual name) for a juicy, fruity, and spicy hazy IPA experience.
Malty and Roasty
Old Weller
Old Ale
It's those damn Jukes Boys! We brewed a big, bad old ale with true english treacle and put it away in a Weller Barrel for 13 months. This thing is molasses and toffee heavy, with just a whiskey kiss!
Paper Beats Rock
Old Ale
Brewed with our friends at Jukes Ale Works, our non barrel aged Old Ale is a perfect warmer for a crisp autumn day!
Bakery Boyz
Stout - Pastry
200 lbs of coconut, 2 lbs of vanilla, 4 whiskey barrels, and a rum barrel combine for mounds upon mounds of flavor! Be careful, this one has as much bite as it does bark!
Tawny Port BA Imperial Stout
Stout - Russian Imperial
This thick, rich, fudgy stout spent 18 months in Tawny Port Barrels for an exquisite, jammy finish to an already decadent beer.
Barrelywine: Volume 5
Barleywine - English
We pulled no punches on this one. Aged for 18 months in Four Roses whiskey barrels, this may be our most complex BA barleywine yet. Caramelly, roasty, sweet, and boozy, you won't regret grabbing this one!
Black Is Beautiful
Stout - Irish Dry
Our version of the Weathered Souls Collab for the Black is Beautiful campaign is a Dry Stout that is lower in ABV but heavy on flavor. Roasty like cold brew, but dry on the finish, you'll want to get more than one 4-pack. Proceeds from this beer will go to the Nebraska ACLU Freedom Fund.
Fruity
Friday Night Book Club
Other
The next in our series of wine yeast fermented lagers is a big one! After fermentation, we added over 400 lbs of cabernet grape must for an intense, wine like flavor and aroma
Sour
Berliner Weisse With Raspberries
Sour - Fruited Berliner Weisse
Our lightest char foeder brewed this tart, german style wheat and then we blended the beer with 425 lbs of raspberry puree.
Koala Tears - Watermelon/Kiwi
Sour - Fruited Berliner Weisse
What do you get when you combine over 660 lbs of watermelon and kiwi concentrate? You get a jolly rancher in a can! Get this one while you are able to, because it's going to go fast!
Ratio 79
Sour - Other
The Golden Ratio is known as the most beautiful ratio in all of nature and gold's atomic number is 79 so of course, ratio 79 seemed like the best name for our base golden sour. We barrel aged this beer in red wine barrels for a clean, tart flavor with an outstanding grape finish!
Oakilly Soakilly
Sour - Flanders Red Ale
Hidilly Ho, frienderino! We socked some suds away in a rye whiskey barrel for about 12 months and the result is a tart and tempting beer that's fine and dandy like sour candy!